A Summer of adventure!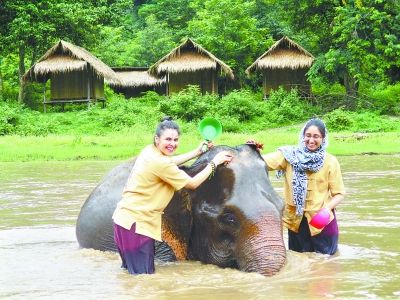 Sarah (right) and Rodi helping an elephant take a bath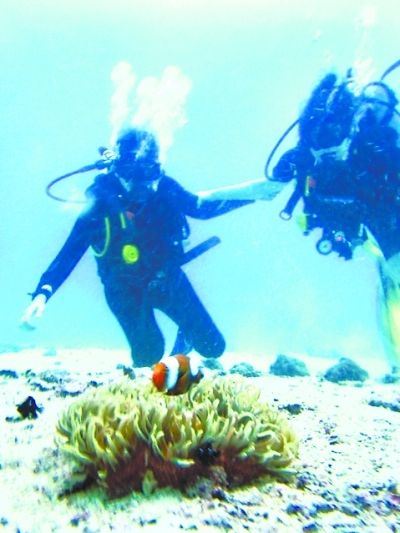 Sarah and Rodi scuba diving
Sarah and Rodi visiting a Thai temple
By Sarah A. Ahmad(Pakistani Ph.D. student at Zhongnan University of Economics and Law)
Over the past several months, the Changjiang Weekly has received dozens of submissions
from readers from both home and abroad. They shared
with us their adventures in places around the world.
The following tells of a Pakistani students experiences in Thailand.
In June, the ChangjiangWeekly published an article about the beauty of
Pattaya. This article inspired my plans for this years summer vacation.
I convinced my best friend, Rodi,to join me on an adventure
that allowed us to escape from the heat and find some shade
beneath the hundreds of coconut trees situated along the beaches of Pattaya.
Our journey began in Koh Samui, a lush green island in the Gulf of Thailand.
We rented bikes and set out to discover the treasures of this amazing place.
The trip was exhausting but worth it, for we were rewarded with
breathtaking views and pleasant interactions with
hospitable locals who invited us into their homes for lunch.
Our next stop was Chiang Mai. The many elaborate temples scattered about
the city offer insight into the traditions and beliefs of the local people.
Chiang Mai boasts some of the worlds best elephant nature
reserves, so we decided to spend a day with these magnificent creatures.
After saying goodbye to the friends we made in Chiang Mai,
we proceeded to Bangkok, where we explored the mysteries of its waterways.
The floating markets were whirlwinds of color.
While we were there, we energized ourselves with an intense bout with Muay
Thai fighters. Afterwards, we decided to relax with a Thai massage.
Then, we traveled to our final destination,
Pattaya. We found it to be very beautiful and vibrant. T
he most exhilarating activity we took part in while
traveling in Thailand was skydiving in Pattaya.
Jumping out of an airplane at a height of 10,000 meters offers a thrill
which is equal parts liberating and terrifying.
In Thailand, we met many people from Wuhan.
They were surprised to encounter a Mandarin-speaking laowai.
We, like them, missed being able to have hot-and-dry noodles for breakfast in the morning. During our travels,
we connected with people from different parts of the world over all kinds of food.
http://cjweek.cjn.cn/html/2015-12/31/content_5500206.htm